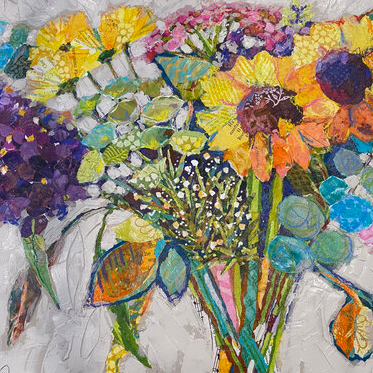 WS12 – Fabulous Florals
Instructor: Elizabeth St. Hilaire
This workshop is a comprehensive class in which students are taught a unique figurative collage technique. Students will learn hand painted papers and collage technique. Emphasis will be on developing form using light, shadow, and directional ripping– very similar to traditional painting techniques. No prior collage experience is necessary. Some painting experience would be helpful, but not imperative. Register early! WBCA requires 30 days to process refunds for this workshop.
August 16-18, 2024
Friday-Sunday, 10:00 AM-4:00 PM
CLASS ID: WS12
Tuition: $575 Member/$718 Non-Member
Age/Level: Adults, All Levels
Location: WBCA