The Journey of Scott Lloyd Anderson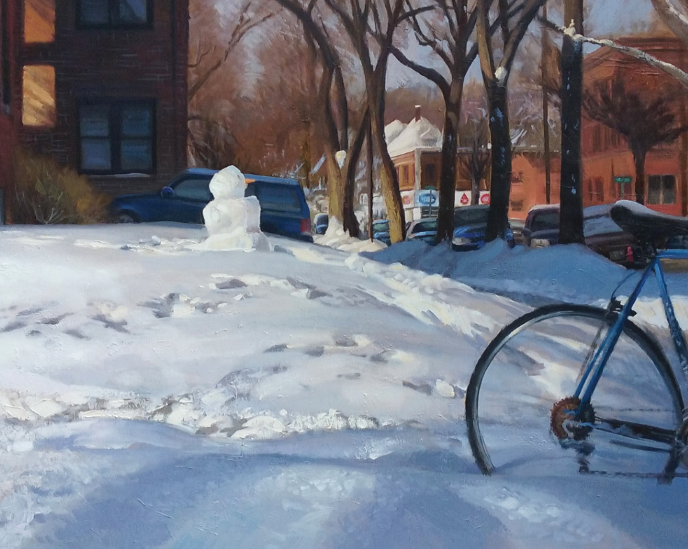 Scott Lloyd Anderson learned at an early age to value realism in his art. Growing up near Chicago Illinois, Scott was praised for drawing accurately, and he grew up enamored with early 20th century illustrators. When it came time to decide what to study at school, he chose graphic design, and spent 20 years as an art director for magazines.
As the millennium turned, Scott saw the writing on the wall: careers as graphic designers were becoming more and more digital. If he kept going, he would spend his days working in front of a computer, an idea he couldn't stomach. When his mother passed away, she left Scott's family some money, giving him the opportunity to study art and take classes. This was his chance for a career change, and he took it.
"I was immediately drawn to painting outside, en plein air" Scott said. Being outdoors "felt different and challenging," and allowed him to study what he loved most: capturing the light. He learned plein air painting from artist Joseph Paquet in a very systematic way, starting with value compositions and painting the shadows first. "You're not touching any areas of light," Scott said. "The shapes of the shadows define the nature of the painting."
Now, Scott tries to limit the amount of drawing he does as he starts a painting. He begins by sketching the larger shapes of the scene. "The longer I paint," he said, "the more I'm trying to subordinate these tight renderings and this focus on realism." As he continues to evolve as an artist, Scott hopes to get more into abstraction, letting go of these preconceived notions that realism is the height of talent. But that hasn't always been easy for Scott. "It's hard to go more abstract," he said, "because my orientation is drawing, that's what I grew up with, and that's where my identity came from." Growing up, he was praised for accurate-looking drawings, and "because I was praised for that, that's what I saw as being valued, and that's what I thought was good."
Moving away from realism, Scott now sees abstract painter Piet Mondrian as his idol. Just as Mondrian balances a piece with one perfectly placed square of primary yellow, "I'm always looking for how to balance a composition with the use of scale and color," he said.
As Scott exhibited his work throughout the Twin Cities, he met Gail and Kyler Nelson, who loved his work and began supporting him, developing an artist-patron relationship. Gail Nelson would tell Scott about the volunteer work she did at White Bear Center for the Arts, and in the last few years of her life she made it her goal to introduce Scott to WBCA. Sadly, Gail passed away in 2020, and Scott's show now hanging in WBCA's gallery is in memory of her.
Since Scott is new to the White Bear Lake audience, he wanted to showcase a broad span of his artwork from over the years. His show "Scott Lloyd Anderson Oil Paintings" at WBCA features plein air landscapes ranging from his adventures in the northwoods to his travels across the country to snowpeople outside his home in Minneapolis.
Someday Scott hopes to have a whole exhibition dedicated to the snowpeople series, paintings where these snow characters (genderless beings, although they tend to look like old men, according to Scott), are in various states of melting, standing sentinel as they guard residential streets. There's a hint of melancholy to the fleeting snowpeople, which Scott said was intentional. "When I start working on them, they're going to be different by the next day," he said. "They describe our fleeting time on this earth." These paintings create a sense of joy, a sense of play, and a celebration of the season, but there's also a deep nostalgia to them that takes Scott back to his days growing up near Chicago, back when his journey as an artist was just beginning.
The Scott Lloyd Anderson Oil Painting Exhibition traces the evolution of Scott as an artist through the decades, and hints at where his art will go in the future. The show runs now through January 22 at White Bear Center for the Arts. You can find more information about the show and opening reception here.