Studio Coffee Tries Plein Air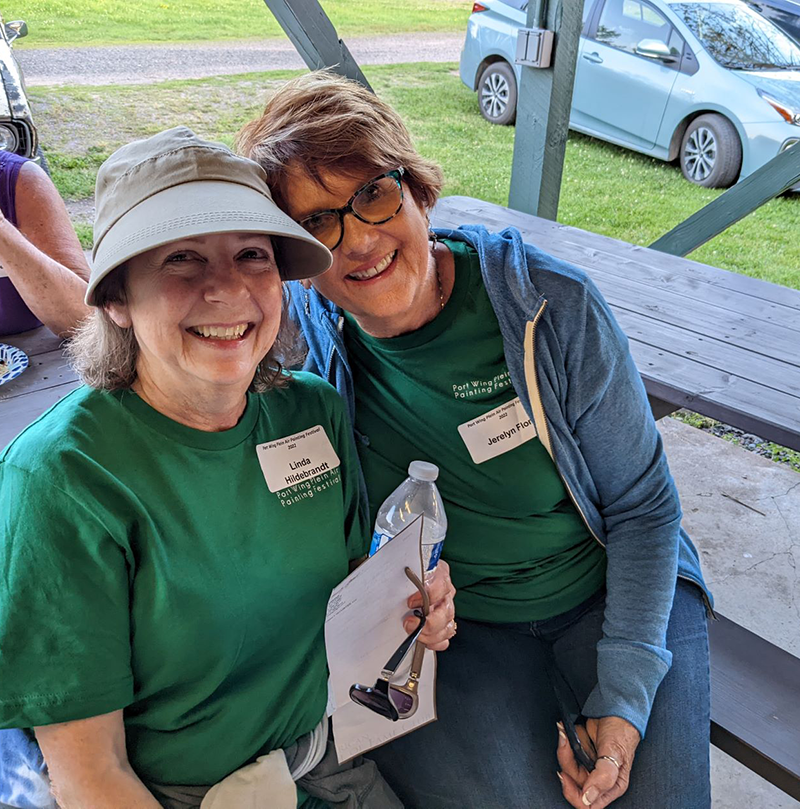 Neil Johnston is a familiar face around White Bear Center for the Arts; every Friday he facilitates Studio Coffee, a class where folks come together to drink coffee and discuss all sorts of art-related topics. Neil recently attended the Port Wing Plein Air Painting Festival in Port Wing, Wisconsin, along with some members of Studio Coffee. Read on to learn more about his plein air experience.
Have you been a part of this plein air event in years past?
Yes, this is my 3rd year officially, however I have been going to Port Wing, Wisconsin since I was in my early twenties. My father used to have a boat in the marina there. We would travel there and camp at the marina, and I'd bring my studio and make paintings, but not officially for the festival. Eventually, I met the group and organizers and my band even made some trips to play for some of the artist receptions – great fun!
How did you first hear about it, and why were you interested in being involved?
The event was something I knew about, but didn't participate in because I was always busy with my own work. The organizers convinced me just before Covid hit and I quickly found that I really enjoyed plein air painting. It is a good contrast to what I do in the studio, and I really enjoy painting outside.
How would you describe the Port Wing Plein Air Festival?
The Port Wing Plein Air Festival draws artists from around the Midwest. Every night there is a reception for the artists where everyone shares their experiences of the day spent painting. There is an exhibition and they hire a juror and have awards and peoples choice too. That said, it is not 'billed' as a competition, it is a celebration of plein air, and that spirit permeates the artist gatherings.
What kind of conversations have you had about plein air painting in your Studio Coffee group?
In studio coffee, we often talk about ways of painting and how to get out of the studio. Over the years, I shared my experiences in Port Wing as part of these conversations and I think that encouraged others to check it out!
Can you talk a bit about how members of Studio Coffee joined you up at the plein air event? What was that like?
This was interesting and a complete surprise! A month ahead of the festival, several members of studio coffee approached me about going – what a great surprise! They shared that they had reserved rooms at a hotel in Herbster, WI, and some others decided to camp. It was so nice to see familiar faces up there and share that experience. We all met up in the evenings, and for lunch to share what we had created. It was a supportive atmosphere – lots of artists sharing their perspectives, techniques, and camaraderie. It is hard not to enjoy the outdoors and the views of Lake Superior, the place is very inspiring.
What is it about plein air painting that you're drawn to?
I think it is the sense of moving through an environment – looking closely at how the landscape folds in to the distance. I become so aware of depth and light. It is a great challenge for me to move from my studio where I paint mostly conceptually and abstract, to a natural environment. Each time I paint, I can see how these two modes of working are more similar than different. The inclusion of plein air experiences has been a real source of inspiration for me.
Any final thoughts?
I think it is important to try things that challenge your way of making and seeing art. The way we think about traditions can sometimes turn into rules, and I think that only really serves to restrict creativity. Before I started, I saw plein air as a tradition-rich artform, and it is, but I think that is really what kept me from trying it. I thought I didn't know the rules, that there is no way my art would fit in – I am not a plein air painter, am I? Well, I've learned that I just needed to start, and not to worry so much – just make my stuff and let the new experience guide me.