Peyton Scott Russell. Artwork. Retrospective. 40 Years.
In the Ford Family Gallery
Show Dates: February 2-March 3, 2023
Peyton Scott Russell (Peyton) started creating as a toddler and has exhibited work professionally since 1990. This retrospective exhibition highlights over 40 years, featuring work from Peyton's elementary school years to the present. Being a graduate of the School of the Art Institute of Chicago (1991), Peyton has exhibited work from drawings, paintings, screen prints, collage, sculpture, mix-media, installations, murals, and Graffiti-related crafts.
The aesthetics of Graffiti Art is a medium and genre that would continue to resurface through the years in Peyton's work. However, graffiti as an art has not been respected by institutions as serious fine art until recently.
This exhibition examines how Graffiti Art has been a genre that followed Peyton and eventually became the one craft that transcended all other media, earning Peyton national and international recognition. This body of work will show the various media, concepts, and ideas Peyton has worked through and continues to examine with the aesthetics of Graffiti Art being at the helm of his creations.
Watch Peyton Scott Russell's Artist Talk with Sieng Lee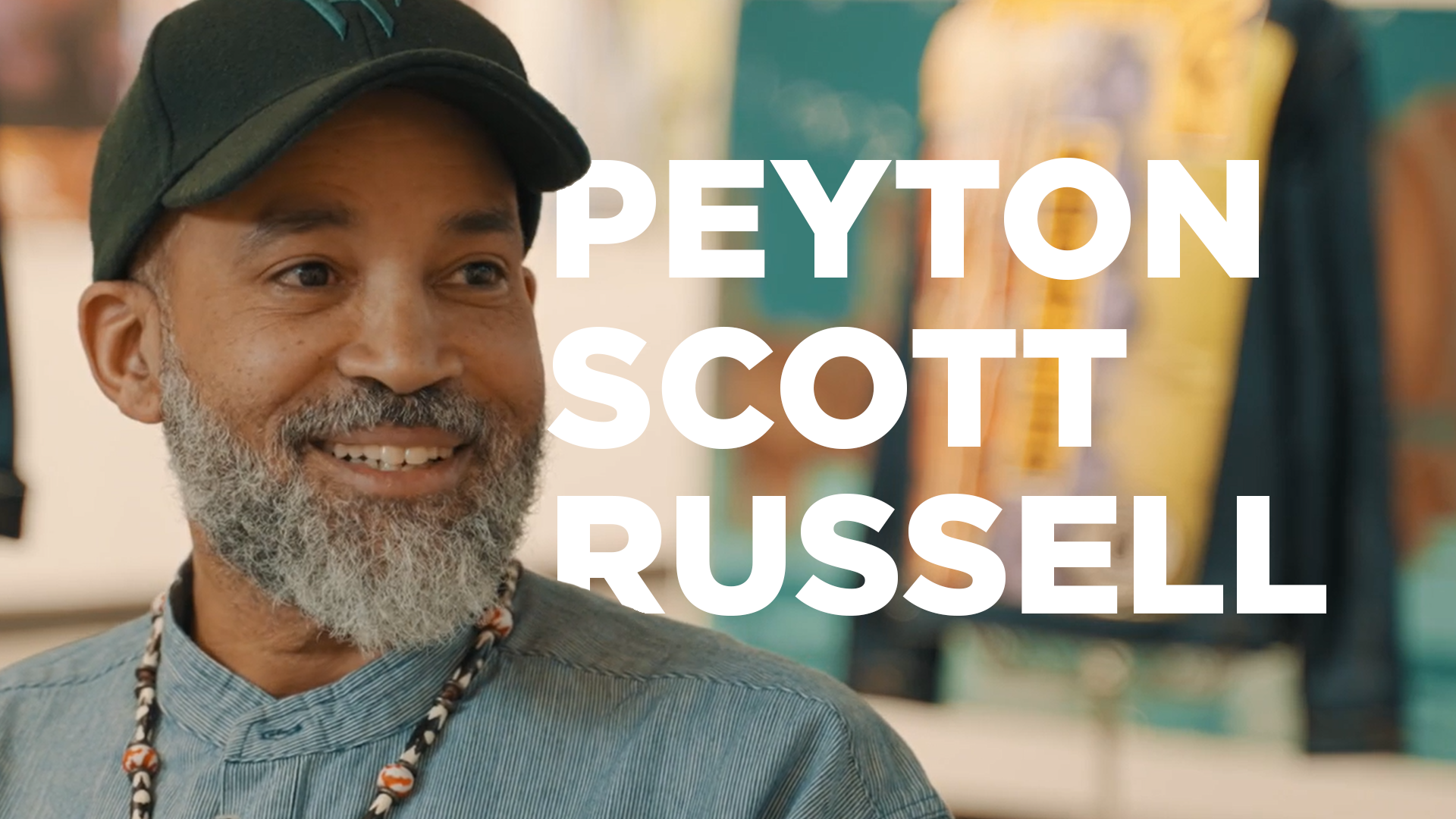 Hear from the artist behind "Peyton Scott Russell. Artwork. Retrospective. 40 Years." In this discussion with WBCA's Artist-in-Residence Sieng Lee, Peyton Scott Russell talks about his decision to go to art school, themes of duality in his work, the importance of honoring one's unique perspective of the world, and his aspirations for the future, among other topics.
Hear What Others Had to Say:
Fall 2022 Exhibit at WBCA
SPRAYFiNGER®, founded by Peyton Scott Russell, teaches graffiti unapologetically as an art form, offering a comprehensive curriculum designed to teach anyone – artist or not – the fundamentals of graffiti and street art. SPRAYFiNGER® builds partnerships with artists, teachers, business owners, arts organizations, community leaders, parents, and students (youth to seniors) to address and discuss the culture, community, expression, and process of graffiti writing as an artistic concept. The program provides curricula, outlines, and techniques that merge language used by art teachers and street artists to deliver high-quality authentic Graffiti Arts instruction. SPRAYFiNGER® works with a broad range of students, including school-age youth, adults, older adults (seniors), and individuals with special needs and offers programming for in-school instruction, after-school programs, summer camps, adult workshops, and private instruction.
Watch Peyton's 2020 Artist Talk